Emmeci equipment and digital platform: the perfect combination to create a luxury rigid cardboard box
Premium packaging plays an ever-more leading role in packaging sector, since it is considered the perfect choice both to contain and to protect a product, and also to show and transmit a brand value.
Fashion, cosmetics and perfumery, wines, champagne and spirits, food, chocolate and sweets, jewellery and watches, pharmaceutical, electronics, entertainment and media, audio-visuals, home care accessories: they are just some of the numerous segments where luxury packaging is achieving a resounding success.
A recent market research reported by Arizton, has shown that, at a global level, the market for premium packaging is constatly growing, forecast to achieve a total value of over 21 billion dollars by 2024 at a CAGR (Compound Annual Growth Rate) of 5% in the period 2018-2024.
Luxury packaging is strictly linked to paper and cardboard, who are particularly able to transfer a sense of premiumness to packaging. Those materials play a key role in this niche segment, because they can be customized in terms of shape, wrapping and size. The use of paper-based packaging materials is rising also due to the increasing attention luxury brands are paying to eco-friendliness: many of them are showing a concrete environmental awareness.
The response of companies and converters to market requirements and Emmeci's point of view in 4.0 Industry
In the luxury industry, the production of premium cardboard packaging is entrusted to third parties – converters – which supply the manufacturers on the basis of their specific requirements.
Over the years, converters have equipped themselves with ever-more high-performance machines, in order to meet customers' expectations of quality.
In certain sectors - especially when unusual shapes are required - the production of rigid cardboard boxes is still carried out by hand, with consequent increase in costs.

In this challenging landscape, Emmeci, a Coesia company, has positioned itself as global leader in the design and manufacture of machines for the production of lined rigid cardboard boxes.

In industry 4.0 wave, Emmeci has managed to well-interpreted the Luxury packaging consumers' needs of innovation and quality level: the result of continuous investments in research in this sense has been the launch of the first packaging line equipped with an exclusive digital platform, which takes a step beyond the existing mechanical and mechatronic technologies.
From mechanical to digital lines: which are the advantages?
Digital lines present numerous benefits if compared to the mechanical/mechatronic ones.

The advantage offered by new digital machines are primarily related to precision performance. The boxes produced with Emmeci digital lines are almost perfect: they do not present any imperfection or flaws, resulting totally in line with the consumers requests and needs of top-quality.

A further improvement reached through the newly-developed digital platform is a simplified format change. The changeover from one box-size to another can be done easily, just selecting the setting adjustments on the video screen: manual fine-tuning is not required anymore. This has a positive impact on the level of productivity, especially for those companies which produce rigid boxes in different shapes and several batches.

In addition, digital machines are totally user-friendly. They are provided with a dedicated software which allows the operator to manage settings directly; moreover, it is possible to get technical remote assistance via touchscreen HMI system and HD video-cameras installed on the line, and daily operations reports.
Emmeci digital machines offer, furthermore, video tutorials showing step-by-step how to perform maintenance operation and to assembly kits to produce special boxes.
It is worth mentioning that, to use this new digital platform, highly qualified operators are not required. In fact, these machines do not need all the manual intervention typically required on mechanical and mechatronic lines: through the touch screen, all the main settings can be set up without performing any action on the machine itself.
Last but not least, Emmeci digital technology gives to the customer the possibility to order spare parts directly from the machine.
Emmeci digital technologies: three lines, three formats
Starting from 2016, Emmeci has focused on the production of innovative digital lines.

Today the company is proud to offer to its customers the possibility to manufacture boxes of any size with digital machines.
Large and medium-large size boxes are best produced with MC2016 DIGITAL, the first digital model to be developed.

Thanks to the numerous benefits that Emmeci costumers encountered while working with first digital machine, the company R&D department developed a new solution for medium-small formats - MC2018 DIGITAL.

The great customers' acceptance has led Emmeci to develop another amazing solution: the MC2019 DIGITAL, a line which will be able to produce top-quality big-size and extra-big-size premium boxes.
To find out more about Emmeci digital solutions, please contact our experts at info@emmeci.it, fill the form below or visit Emmeci website.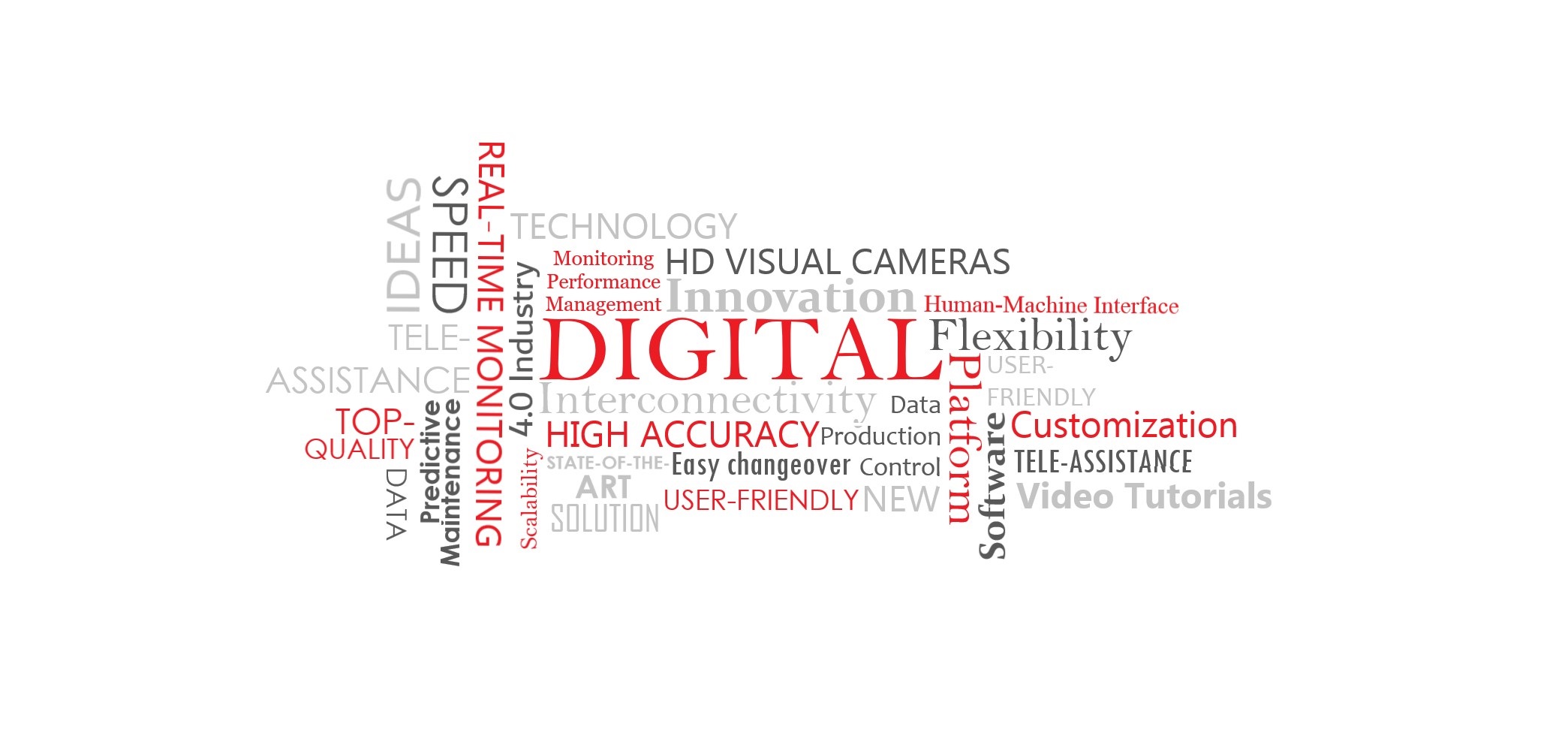 Emmeci digital technologies: three lines, three formats
Starting from 2016, Emmeci has focused on the production of innovative digital lines. Today the company is proud to offer to its customers the possibility to manufacture boxes of any size with digital machines.
Large and medium-large size boxes are best produced with MC2016 DIGITAL, the first digital model to be developed.

Thanks to the numerous benefits that Emmeci costumers encountered while working with first digital machine, the company R&D department developed a new solution for medium-small formats - MC2018 DIGITAL.

The great customers' acceptance has led Emmeci to develop another amazing solution: the MC2019 DIGITAL, a line which will be able to produce top-quality big-size and extra-big-size premium boxes.


To find out more about Emmeci digital solutions, please contact our experts at info@emmeci.it, fill the form below or visit Emmeci website