Flexible Solutions for unique Luxury Rigid Boxes
The role of packaging is not only to stand out on the shelf, but also to highlight the quality of the product it carries. Luxury packaging in particular needs to be carefully personalized for the target market and brand image, and of course perfectly fitted to unique dimensions, in order to attract the end consumer. A customizable approach to packaging is therefore key for premium brands. Luckily, customization is more accessible and cost-efficient than ever thanks to new flexible technologies.
From Customization to Full Flexibility
The first packaging choice for luxury brands are usually premium rigid boxes, preferred for their elegant form options and usage of superior materials. Emmeci is a leading producer of lines that enable the fully automatic manufacturing of luxury wrapped rigid cardboard set-up boxes, which can be produced in a wide range of sizes and formats including Small-, Medium- and Big-size.
Small-size wrapped rigid boxes are ideal for goods with smaller dimensions such as cosmetic bottles, jewelry items, watches and accessories. Meanwhile, Medium-size rigid boxes are a popular secondary packaging solution often used for gift boxes such as beauty sets, fine chocolates and sweets, mobile electronic gadgets, as well as popular board games. Finally, Big- and Extra-big-size boxes are more suited to high-end fashion clothing, footwear, handbags or interior design objects.
Across the three size categories, most rigid cardboard boxes typically have a rectangular, squared or cylindrical shape that is also elegant and durable. But it does not have to end there. - brands and packaging manufacturers can also optimize their process to create additional versatile styles automatically with Emmeci kits that take classic shapes to the next level.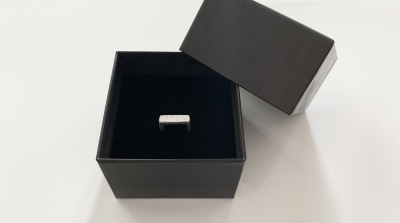 Creative and flexible Solutions for Rigid Luxury Boxes
Each automatic Emmeci line can be fitted with specific personalization kits which enables the packaging manufacturer to reinvent shapes, details and characteristics of their rigid wrapped cardboard boxes. There are many innovative solutions for luxury rigid cardboard boxes, listed below to get you inspired:
1. V BOX, CLAMSHELL BOX, NARROW BOX and DVD BOX: These formats perfect packaging solution for products such as multimedia boxsets to collect single or multiple DVDs and CDs.
2. 70x70 BOX and 60X60 BOX: The dimensions refer to box base sizes in millimeters, meaning these are tiny boxes, absolutely perfect for jewelry items and watches.
3. 55X55 BOX: With dimensions once again referring to millimeter, 50x50 boxes are commonly used to contain small-base perfume bottles.
4. FRUSTUM BOX: This special box is highly appreciated in the luxury segment for its very peculiar and unique lid.
5. T-BOX: This box's name refers to the shape of the die-cut cardboard which, instead of having the typical Cross-shape, has a T-shape enabling a reduced amount of material waste.
6. SLOPED BOX: A very elegant and sophisticated rigid box, the sloped box represents the perfect packaging solution for perfumery as well as wine/spirits bottles.
7. 3-SIDES BOX: The three-sided box is easily one of the most appreciated packaging solutions in the premium goods market. Thanks to a peculiar, sophisticated and elegant shape, this box is able to valorize the products it contains. It is ideal for watches, rings and other accessories.
8. OCTAGONAL BOX: With its unique shape, the octagonal box is commonly used for confectionery products such as fine chocolates and premium confectionary.
9. DEEP TURN-IN BOX: The deep turn-in box is special as the wrapping flows along the box's interior down to the base, wrapping it inside out. This unique effect adds a refinement to the products it packs and is often used for high-end electronic products.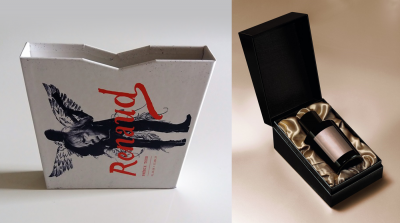 Each Emmeci personalization kit has been introduced specifically to allow customers to be more competitive in the market by offering them the unique ability to creatively enhance their packaging through a completely automatic process. If you want to find out more about how Emmeci can support your customization needs, please contact our experts.