The Sweet World of Rigid Luxury Boxes
The chocolate and confectionery industry is booming, with worldwide demand expected to grow by 4.6% by 2021, according to GlobalData market research. Sugar confectionery is still second to chocolate with 31.9% of the global market share, but it's immensely popular in some key growth markets like China, for example, where it now accounts for 60% of all confectionery sales.
This hike in consumer demand suggests a flood of new sweet varieties will soon hit the market. As demand keeps growing, so will the need for individual brands to become more distinguishable in order to attract attention amid the seas of other varieties.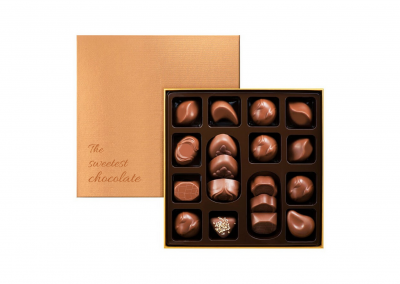 Packaging design is what forms the unique brand identity of the world's favorite sweets while also being the main tool that convinces the consumer at the point of sale. Naturally, increased competition will only add to the already huge significance of confectionery packaging.
At the same time as sweet consumption is booming, consumers are developing more of a taste for high-quality packaging. From the customer point of view, there are multiple key characteristics that make packaging truly sweet:
Attractive: Beyond just "good-looking" design, great packaging is eye-grabbing and attracts the customer's attention even when placed among many other brands.
Brand-focused: Every aspect of the packaging design should enhance the product inside as well as the brand itself.
Protective: The packaging needs to be highly resistant in order to protect the product inside from breakage, misshaping, or any other potential damage.
Informative: The packaging design should clearly contain information about the product so the consumer can envision exactly what it looks and taste like before they even open it.
User-friendly: The package should be easy to open and close in order to retain the freshness of the product.
Environmentally-friendly: Beauty is not everything for the growing segment of eco-conscious consumers whose priority is recyclable or reusable material.
Given the last point about eco-friendly packaging, many brands are getting serious about tossing out the plastic and looking towards greener packaging instead. Meanwhile, thanks to innovations in paper and cardboard packaging, it has become very easy to create an eye-catching design with rigid cardboard boxes.
Premium brands in particular choose rigid cardboard boxes for their confections because they are more elegant-looking with many creative options for graphics, patterns, and tactile effects. There is no limit to creativity, including different sizes, as well as unique materials and printing options.
As well as being highly protective of the product by design, luxury confectionery boxes are also associated with gifting holidays such as Valentine's Day or Christmas. Thanks to their resistance and beautifully branded embellishments, rigid cardboard boxes are often preserved by the customer to be later reused as a container. This is both a perk for the customer and a remarkable advertising tool for the brand, which holds the customer's attention long after the product's lifetime is over.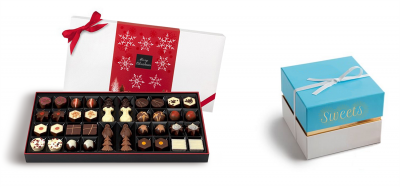 Emmeci machines provide the ideal solution for rigid cardboard boxes composed almost entirely of environmentally-friendly materials like paper and cardboard. Machines by Emmeci also implement materials that meet eco-compatibility requirements and are recyclable. These can be used to create designs specifically developed for the luxury goods segment, as for example cylindrical paperboard boxes and big-sized rigid packaging.
With Emmeci, it's also possible to produce wrapped boxes and premium rigid cardboard boxes that meet a wide range of requests: varieties of paper and thickness of cardboard, special effects (e.g. embossing) and patterns, as well as different box sizes and shapes. With such a wide choice of options, Emmeci machines respond to a fast-changing market where the key to success if to have the most versatile solution.